Crossing the Park
30 Mar 21—22 May 21
URGENCIES (2021) presents Michael Hanna's project Crossing the Park as he begins his attempt to stop supporting Everton Football Club and start supporting their local rivals Liverpool.
The project will be documented here and on CCA's Instragram throughout the rest of this season as he carries out a series of steps to achieve his goal.
The title Crossing the Park, comes from the pejorative phrase applied to players who have played for both Everton and Liverpool Football Clubs, as their home grounds in Liverpool are separated by Stanley Park.
Historically, Northern Irish football fans, Michael included, choose an English team to support for life when they're young. This is usually based on club success at the time rather than the more normal case of geographic connection.
There are strong negative social pressures against such a change of allegiance. Through undertaking and documenting his switch from one team to the other, the artist wants to address important aspects of contemporary life, such as group formation, loyalty, tribalism, solidarity, and the undertaking of actions that invite division and negativity. Crossing the Park follows on from the artist's recent research into utopian communities and alternative ways of living.
Follow this page for updates throughout the rest of the season as well as @CCADLD on Instagram.
Crossing the Park is supported by CCA Derry~Londonderry and The Elephant Trust.
Michael used the £150 he received as an artist fee for this exhibition to bet on Liverpool winning the Champions League. Liverpool's next game in the competition is the first leg of the quarter final V Real Madrid next Tuesday.
#CrossingthePark is a project where artist @michaelhanna attempts to stop supporting Everton Football Club and start supporting Liverpool Football Club. The project is supported by @CCADLD as part of URGENCIES (2021) and The Elephant Trust.
URGENCIES (2021): Michael Hanna Crossing the Park
For each game until the end of the season Michael will be developing a superstition to help Liverpool win.
Game Day Rituals 03/04/21 Arsenal (away)
Red face and body paint
As well as being the colour most associated with Liverpool FC (nickname: The Reds) 'the color red is considered the most auspicious color and brings the biggest and best luck.'
Wearing red has been found to have a positive effect on winning in sports.
Red enhances human performance in contests (Hill & Barton, 2005)
Red shirt colour is associated with long-term team success in English football (Attrill et al (2008)
For each game until the end of the season Michael will be developing a superstition to help Liverpool win.
Game Day Rituals 06/04/21 Real Madrid (away)
Watch the match on 7 screens
7 is a number considered lucky across many cultures. It is also many people's favourite number.
There is also a powerful connection between the number seven and the religions of the world. Biblical scholars point out that the number seven is quite significant in the Bible. In the creation story, God made the world in six days and rested on the seventh day. Scholars have found that the number seven often represents perfection or completeness in the Bible. In Judaism, there are seven heavens. The Koran, Islam's holy book, also speaks of seven heavens, and Muslims making the pilgrimage to Mecca walk around the Kaaba seven times. In Chinese culture, seven represents Yin and Yang combined with the Five Elements: water, fire, earth, wood, and metal. This combination represents the concept of harmony in Confucianism. (wonderopolis.org)
Famous Liverpool number 7s: Kenny Dalglish, Kevin Keegan and Luis Suarez
Game Day Rituals 10/04/21 Aston Villa (home)
Touch 'This is Anfield' poster before game
Steven Gerrard – Like many Liverpool players over the years, the former club and country captain always had to touch the famous 'This Is Anfield' sign on his way out to the pitch. The original sign had been replaced by a more modern version in 1998 but when manager Brendan Rodgers arrived in 2012, he insisted that the old sign was re-fitted after it was found in a cupboard.
Three different versions throughout Liverpool's history have adorned the Anfield walls, but all held the same message: This Is Anfield. The words are synonymous with Liverpool Football Club and its place inside the Reds' spiritual home holds significance across world football. It is not just a casual motto nor is it a marketing ploy, the words resonate to both players and fans alike and have done so for over half a century.
The 'This Is Anfield' sign was first installed by Bill Shankly, but the concept was not one of his own making.
"It was actually recommended to him by a groundsman. The groundsman then went to our then-secretary Peter Robinson and said, 'listen, let's put a sign up in the players' tunnel'.
"And then Shankly approved it, but the original sign which was recommended said, 'Welcome to Anfield'.
"Bill said 'no'. 'We're not having that, you're not here to have a good time, you're not here to have a nice day, let's have 'This Is Anfield.'"
a condition set by Klopp early in his reign, as he revealed: "I've told my players not to touch the 'This Is Anfield' sign until they win something. It's a sign of respect."
Game Day Rituals 14/04/21 Real Madrid (home)
Goalkeeper Pepe Reina – When he was at Liverpool, the Spaniard admitted to a whole range of pre-match rituals including having cheese and ham toasties and a glass of wine the night before a game, and making sure his car was full of petrol on match day. (ertheo.com)
Game Day Rituals 19/04/21 Leeds United (away)
Harness the power of a 4 leaf clover
The four leaf clover is a mythical symbol of good fortune, caused by a rare genetic mutation produced in an average of 1 in 10,000 clovers (Yoke). Though the overall meaning of "luck" is still universal, it has also been added to. Each leaf now symbolizes something different. One leaf is for faith, the second for hope, the third for love, and the fourth for luck (Clovers Specialty Company).
Originally, clover was a symbol of rebirth for the Celts, and its return to the landscape signaled the beginning of spring. The shamrock was sacred among the Druids and was frequently used in rituals.
Four-leaf clovers, possessing an extra leaf, were even more hallowed: Druids believed carrying one allowed them to see demons and would ward off evil spirits, which is probably the talismanic belief that gave rise to the shamrock's association with luck. gardencollage.com
Game Day Rituals 24/04/21 Newcastle United (home)
Win the corresponding fixture on a computer game
Make a donation to the Liverpool FC affiliated charity the Owen McVeigh Foundation. The charity provides special experiences for children with cancer.
More info on the charity can be found at owenmcveighfoundation.co.uk
Game Day Rituals 24/04/21 Manchester United (away)
Support the dockers
text from Robbie Fowler's autobiogaphy 'My life in football'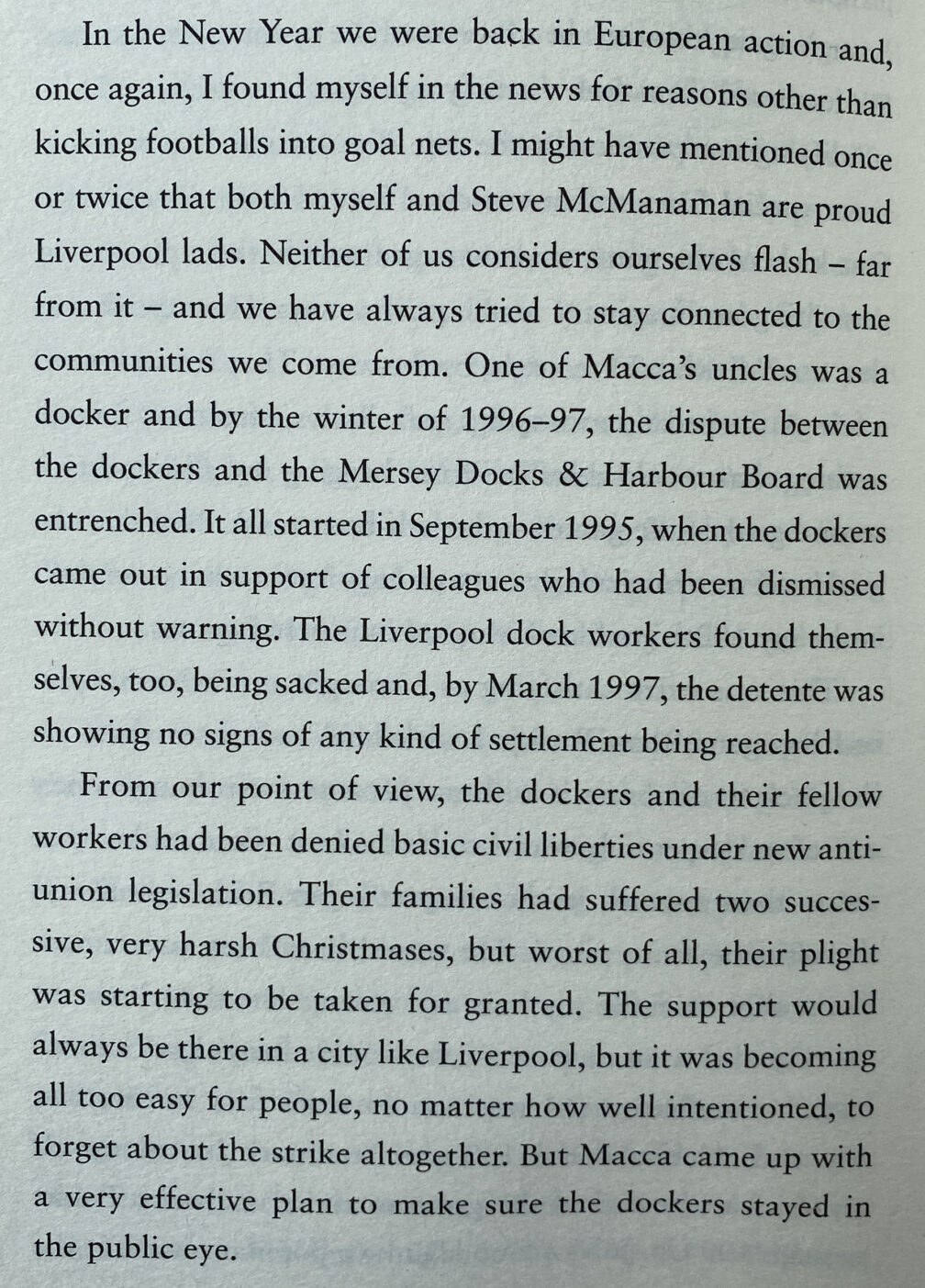 Game Day Rituals 08/05/21 Southampton (home)
Meditate on my birthstone (Amethyst)
Game Day Rituals 13/05/21 Manchester United (away)
Set up a lucky horseshoe
Game Day Rituals 08/05/21 West Bromwich Albion (away)
Write 'top 4 finish' 1000 times
Game Day Rituals 19/05/21 Burnley (away)

Arrange leftover food into the shape of a Liver bird