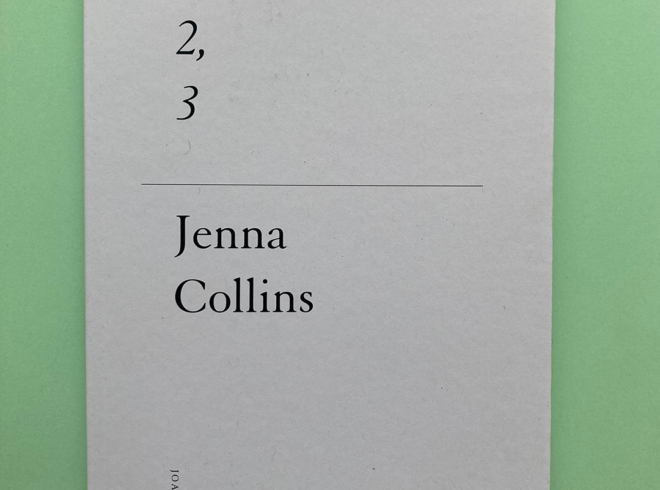 One, 2, 3, guest publication - Jenna Collins and JOAN Publishing
Description
The moon is visible in the window tonight. It is round and sharp and there is no need for lamps. Turning from the window, the writer pulls a chest of drawers away from the wall and drags a pile of clothes out of the way with her heel. She climbs a platform she has assembled from a small table centred on top of a larger one and begins writing on the beige wall.
She is un-writing her days' work.

The writer must attend to an internal equation that calls for a balance between her daytime writing; words that circulate in the world and provide her with money and earn her a general sort of admiration. And nighttime words, which leak out, full of the aggressive phrases and obdurate postures of the years before her education began.
Exploiting forms that traditionally get burnt up in the production of the moving image, Jenna Collins' One, 2, 3 moves through sequences of writing that dramatize the small but necessary acts of theft and invention that shape a story in its telling. In this case, one that navigates the legacy of a dead female writer and the task of being a living artist.

Jenna Collins' solo and collaborative artwork across media but primarily video and sound, has been broadcast, exhibited and screened widely at venues across the UK and further afield.
Collins is based in London and West Yorkshire.

www.jennacollins.com

~~
One, 2, 3 is a splendid feast made from the broken bits at the bottom of the bag. Bitingly funny, with a peculiar slippy charm that lodges its subversive truths about making art deep in the bones.

- Kate Feld


In Jenna Collins' One, 2, 3 an inexplicable locating occurs. We are led into rooms, views, situations and scenarios with no real notion of how we came to be wherever we are but at the same time finding ourselves as the unwitting witness to certain meticulousnesses, certain claustrophobic, often absurd, unbalancings, events, processes. The possibility appears to be offered of dipping one's fingers into the pockets of the text and running off like a thief and indeed the placing of incidences, sometimes faintly mirroring, sometimes set inside - or resting obliquely against - the other, does leave the reader free from consecutive narrative but at the same time, oddly trapped even implicated in what unfolds and what doesn't.

- Paul Becker
~~
You can also find video notes for this work here.