Witch Hunt
08 Jul 10—13 Aug 10
"Witch Hunt is a mass of limitless contradictions. There is nothing subtle about this work, not in its scale or message. Initially, it is like being stuck in a postmodern whirlwind with thousands of voices being articulated by the braying mob. Once the over-stimulation subsides, the phenomenal detail of Delaine's embroidery and textiles, the high level of attention to every corner of the gallery comes to the fore. The outsider is no longer the outsider, but united in this carnival of exile."
Debbie Savage, AN, 2010
As part of the UK Romany community (Roma being the largest ethnic minority in Europe), Delaine Le Bas explores many of the experiences of intolerance, misrepresentation, transitional displacement and homelessness that the community continues to face. Witch Hunt is a multimedia project comprising installation, performance and new music. Delaine has created new ecclesial structures reflecting the religious dimension of the 'Witch Hunt', weaving within them new work which explores the role of language in identifying the 'other'.
Witchcraft was built around words, as much dependent on lost ways of speaking as on particular incantations. Witches, like Gypsies, have provoked unmatched levels of hysteria, excitement and persecution. Their tongues may not be forked, but they threaten invisible borders as outsiders camped within.
*All exhibitions and events prior to 2012 are credited to The Context Gallery, our former name.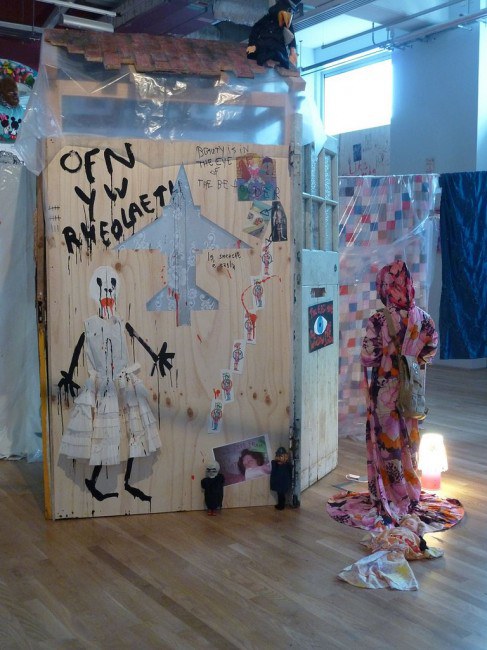 Witch Hunt was originally shown at aspex Gallery, Portsmouth, subsequently presented at Chapter, Cardiff in February 2010 and is the first presentation of Le Bas's work in Ireland. Le Bas' work was also included in Paradise Lost, The First Roma Pavilion, Venice Biennale 2007; Refusing Exclusion, Prague Biennale 3, Prague 2007; Living Together, Museo De Arte Contmeporanea De Vigo, Spain 2009 (curated by Emma Dexter and Xabier Arakistain) and is currently exhibiting in Foreigners Everywhere, T293, Napoli (curated by Claire Fontaine) which was also shown at Dvir Gallery, Tel Aviv, Israel, November 2009.She is included in 'Sixty Innovators Shaping Our Creative Future' by Thames & Hudson.
Delaine Le Bas acknowledges the support of the Arts Council Of England, Lottery fund. Delaine Le Bas is represented by Galleria Sonia Rosso, Turin, and Galerie Giti Nourbakhsch, Berlin.